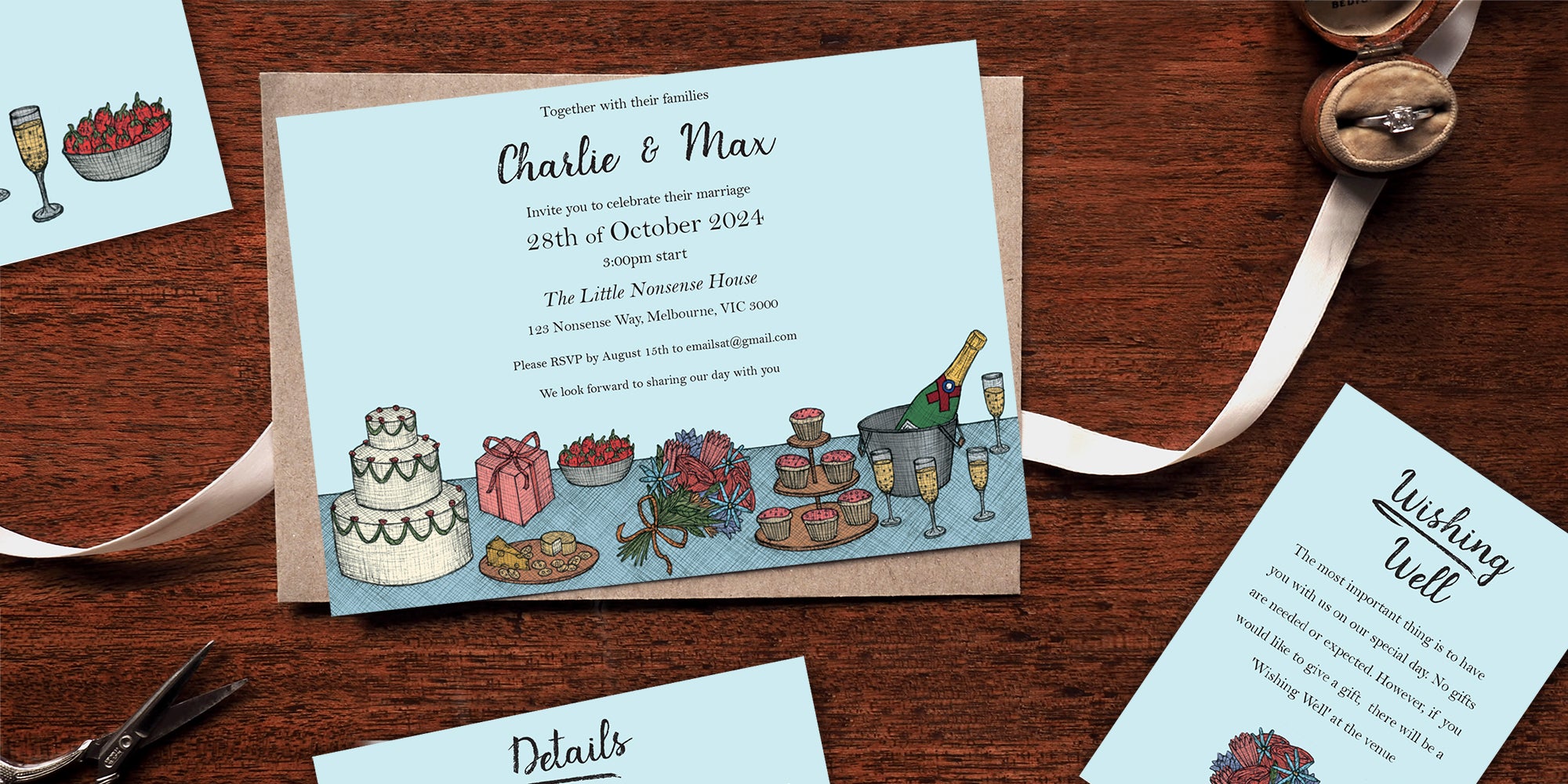 Playfully Unique Wedding Invitations
For couples who like to be different
Could not have asked for a more special and personalised memento for our special day. Perfectly illustrated and exceeded our expectations.
See and touch a selection of our premium wedding invitations, envelopes and stationery in person before choosing your favourite design.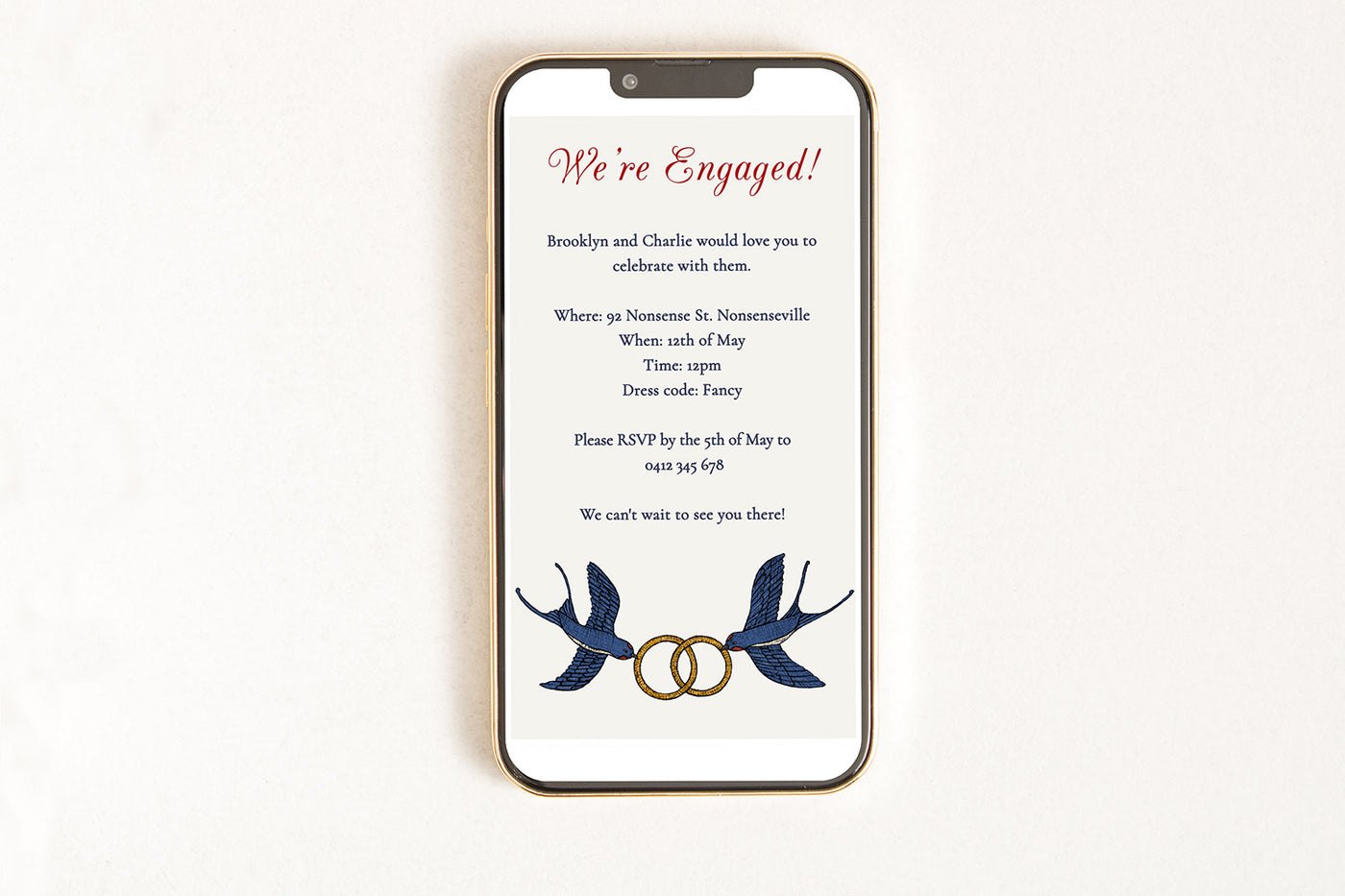 Digital Invitations
Save the Date
Unique artist designed digital Save the Date invitations to make your event extra special. Quickly and easily personalise them yourself to send to your family and friends!
Digital Invitations
Engagement Party
Unique artist designed digital Save the Date invitations to make your event extra special. Quickly and easily personalise them yourself to send to your family and friends!
Bring your theme to life
Ask about specialty products
Bring your invitation theme to life with matching specialty extras. We can create bespoke items to match your wedding invitations, such as hens and bridal shower invitations, posters, menus, place cards, table numbers, bonbonniere, and more!
Need Some Help?
Need some help with your wedding invitations? Take a look at our wedding FAQs, and our handy guide on what to write in a wedding invitation.
If you still can't see what you're looking for or have questions about customising invitations and extras, get in touch! We offer a one-on-one service and are here to help every step of the way.
Who is The Nonsense Maker?
The Nonsense Maker is an Australian small business started by two women and run from their little studio in Brunswick, Melbourne. Together, artist Emily May and her business partner Sidonie create a range of whimsical hand illustrated artworks, unique wedding invitations and stationery.
Reminiscent of etching techniques used by old-time illustrators, and inspired dreamlike reality where little is what it seems, all wedding invitation designs are lovingly hand drawn with fine point pen and digitally coloured, before being customised and printed to order in their Melbourne studio.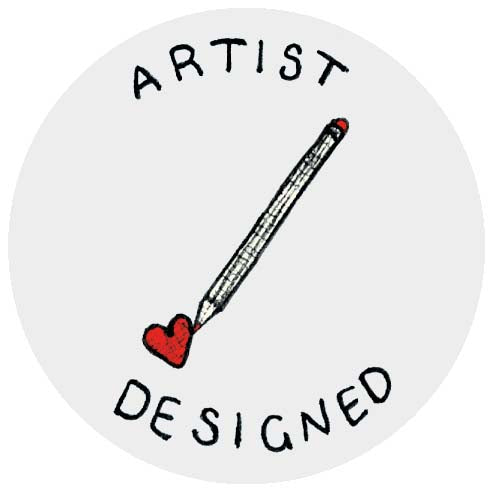 Unique wedding invitation design
While researching for her own wedding, artist Emily May noticed a trend for curiously no-nonsense wedding invitations, which wouldn't do at all! Inspired and with fine liner pen in hand, she set out to create elegant and whimsical wedding invitations for her fellow Nonsense loving couples.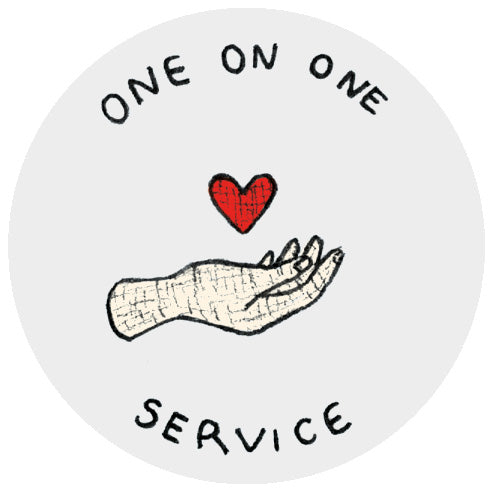 Customised wedding invites & stationery
We work with you to write and format the text on your wedding invitation and wedding stationary to reflect your details and unique personality! We may also be able to design your other wedding stationery, such as wedding place cards, wedding menus, wedding gifts and favours - just ask!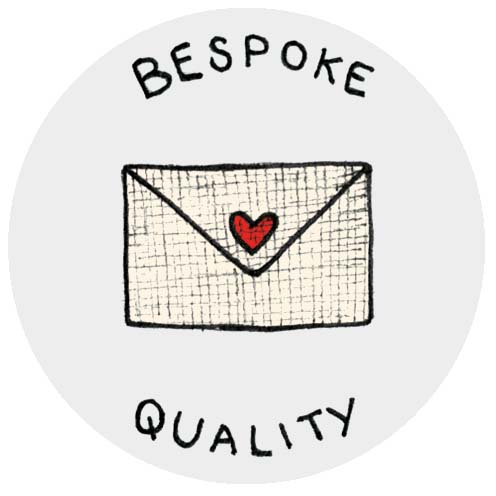 High quality wedding invitations
All our wedding invitations and wedding stationery are perfectly printed in house by us to ensure you get the highest possible quality. We use lightly textured premium paper which is sourced ethically from Australian suppliers, and has the added bonus of being 40% recycled!
Wedding Invitations Melbourne
The Nonsense Maker HQ is based in Brunswick, Melbourne. All of our wedding stationery is imagined, drawn, and produced in Melbourne, and manufactured using all local Australian suppliers. Our two female founders are both Melbourne born, and much of our wedding invite inspiration is drawn from Melbourne's vibrant laneways and romantic secrets.
All of our unique wedding invitation designs are printed on high quality 320 gsm paper with rich vibrant inks. Everything in our wedding stationery range is printed in house and personally checked by us before being safely sent out.
Melbourne artist Emily May imagines her unique wedding invitations from a whimsical world where her alter ego The Nonsense Maker was born. Highly detailed, romantic, and always wonderful, her wedding invites are a playful reflection of her beautiful Melbourne life.